Why choose eco boom diapers and what are the advantages?

ECO BOOM believes that a change for the diaper would be a big change for the world. They also believe that babies are the future of the world. Eco friendly diapers can help lead to a greener planet. They hope that they can provide consumers with truly healthy and natural products. They believe ECO BOOM can spread the concept of environmental protection worldwide! They devote a lot of time and energy towards making safe and excellent biodegradable products. By using biodegradable materials, they avoid creating 129,812 lbs. of plastic waste. They're helping the planet by delivering 3,607,820+ ECO BOOM diapers. Trees are being protected by choosing bamboo fiber, by preventing 18 trees from being cut down. ECO BOOM helps with carbon balance by absorbing 21,482 lbs. of CO2, release 15,045 lbs. of O2. The statistics are based on a medium-sized tree, (around 1,000 lbs.); a tree releases 32g of oxygen when it absorbs 44g of carbon dioxide. A tree can produce 1.8kg of oxygen per hour. They have taken huge steps towards a more sustainable future and a greener planet. 2022 is ECO BOOM's 5th year and is now available in 34 countries with 46 agents. ECO BOOM is a more eco friendly and greener planet. ECO BOOM diapers for your baby are the first step you should take towards saving the planet. Visit the ECO BOOM website at to find out more about Eco Boom bamboo diapers. You will be happy that you did!

Now that you know more about the ECO BOOM diapers, let's talk about the benefits of using bamboo for products. When choosing diapers for your baby, you may want to look into bamboo. Bamboo is organic and free of pesticides, fertilizers, and herbicides, and is the perfect choice for babies with sensitive skin. Bamboo is also less likely to produce harmful chemical residues when washed. It also has a natural insulating quality, so your child's bum will stay cool even in cooler weather. Bamboo diapers also offer many other benefits.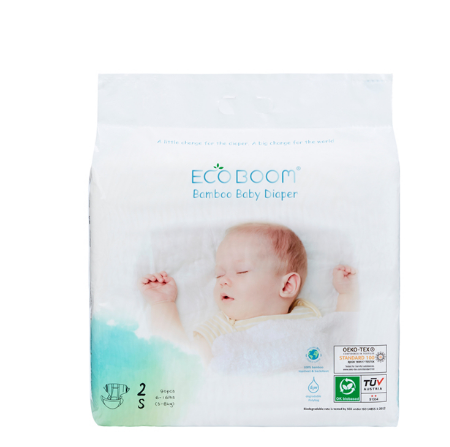 Bamboo is hypoallergenic. It may also repel dust and mold. The chances of your child having an allergic reaction to your baby's diaper are very low. Bamboo diapers also help reduce the moisture on your baby's skin, which helps prevent diaper rash, which is caused by prolonged exposure to moisture. Bamboo diapers can also reduce the odor that can cause an unpleasant smell throughout your house.

Bamboo viscose is naturally hypoallergenic and gentle on your child's skin. As a result, bamboo diapers are a premium option for diapers. Those with sensitive skin should also look for a bamboo diaper. It is also hypoallergenic and naturally antimicrobial, which makes it a good choice for any family. Bamboo diapers are also breathable and soft.

Because bamboo grows so fast, it is a renewable resource, absorbing 35% more carbon than a tree and giving off 30% more oxygen. It is also highly durable - a bamboo cloth diaper will last as long as 150 disposable products. It is also environmentally friendly, so it does not require chemicals to grow. And it doesn't cost as much as other diapers - about $0.50 per diaper!

Because bamboo is naturally hypoallergenic, many people who use bamboo diapers have a lower chance of developing diaper rash. Additionally, bamboo is antimicrobial and does not require chemicals or pesticides during their growth. This means that your baby will be free of diaper rash as well. Bamboo diapers also don't typically contain chemicals or other chemicals that are potentially harmful. Those benefits are definitely worth the cost.

Unlike other diapers, bamboo is biodegradable and sustainable. Bamboo decomposes naturally within 75 days and doesn't leach nasty chemicals into the soil. And bamboo is a sustainable choice for diapers. Bamboo also has many other benefits, including being soft and gentle on baby's skin. It can be used in cloth and disposable diapers as well as in inserts for extra sensitive skin. Now that you know the benefits of using bamboo for diapers, it is time to go back to the website of ECO BOOM to look at their amazing product line!

As we are also a wholesale diapers suppliers, we welcome bulk order inquiries. We also warmly welcome you to be one of ECO BOOM Diapers distributors and agents, if you are interested in our brand.